Artist impression of an early Maori canoe after a long voyage from the Pacific Islands, siting New Zealand land 1000 years ago

Tehuia History & Today
Pre-European
The history of the people who trace their ancestors back through
Maori
lineage in this area, can do so to the 13th - 14 century. Their tribal name is Te Kawerau ā Maki. They are 'Tangata Whenua' or 'People of the Land'. As such they hold early human pre european history alive in the stories told and passed down by their elders.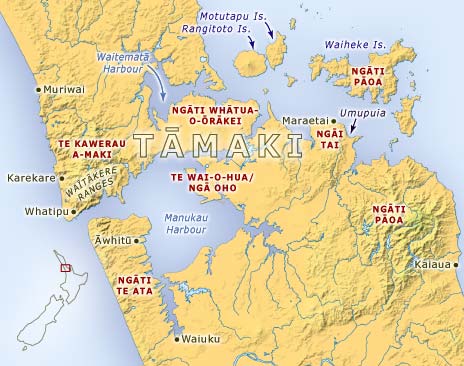 Maori Tribes of Auckland
Bob Harvey, a previous Mayor of Waitakere City and author of the book 'Untamed Coast' gives credit to research done by Graeme Murdock of the Auckland Regional Council in illuminating legend and fact with regard to the early Maori history of this area. Graeme Murdocks history is published in the West Auckland Society's Journal, The West Remembers,
Vol 11.
There are however many other good researchers and literature written about the local
Iwi
and history of this area available from Auckland Libraries.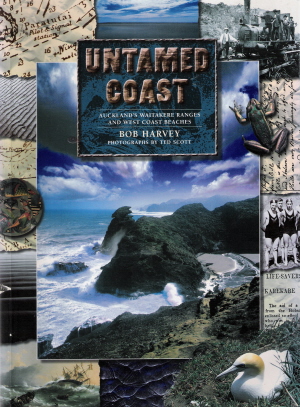 The people who came to be known as
Te Kawerau A Maki
developed their tribal origins on the coastline between northern Taranaki and Kawhia in the 13th and 14th centuries. They are the descendants of the famous ancestor Maki and his younger brother Mataahu. They were of highborn lineage being able to trace their ancestry from the leading rangatira of the
Tokomaru, Kahuitara, Aotea, Kurahaupo and Tainui canoes.
Te Kawerau ā Maki cultivated sweet potatoes as their staple crop. Supplemented by seafood and birdlife from the coastal wetlands, this area was able to support a sizeable population. The native rainforest provided building materials and medicinal plants with the rugged volcanic peaks making ideal lookout points suitable for fortification in times of war.
A majority of Maori Tribes reached an agreement to live in peace with white settlers in 1840 at Waitangi in the Bay of Islands. This
Treaty of Waitangi
has been and continues to be, a foundation document in New Zealands Constitution and direction as a nation.
In obtaining Waitakere Councils Resource Management Consent for the developement of this property the present owners of Tehuia commissioned Te Kawerau ā Maki and Graeme Murdock to complete a Cultural Heritage Report. We appreciate their diligence, support and respect for what we are trying to achieve.
The Property, People and Future
The felling of native timber, and in particular
Kauri
,
Totara
,
Kahikatea
was the first European business activity done here in Huia and surrounding hills and coast. Mills sprang up and millions of board feet of this exquisite 1000 plus year old wood was exported on sailing ships to places like San Francisco Sydney and around the world.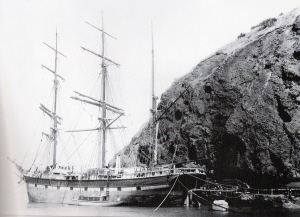 Sailing ship taking on milled native timber at Whatipu
Milled flat lands became farmland and our property Tehuia was part of a larger farm on the shore and the flatlands of Huia Bay. It has had few European owners (3), and began with the Kilgour family, who obtained in 1853, a government grant for 100 acres. They cleared the land and farmed it until 1880 when the Higham family took over. Mr Glover Page then took over and farmed there for over 60 years. Before his death he placed the part of the farm we now call 'Tehuia', into a Trust which was to be sold upon his death and the proceeds given to charity.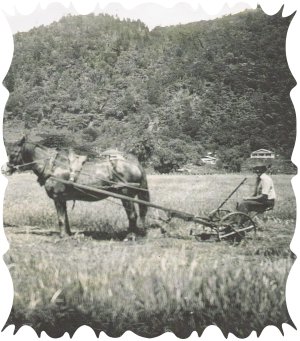 Glover Page 1930s
The present owners had been looking at property in Huia for some time and feel lucky indeed to have been given the opportunity of stewardship of this magnificent a piece of land. They feel that the land has its own Mana and after spending most of their their adult years living overseas, had the intention to create an eco sustainable property guided by the 'big tree nature' of our own Kauri Reserve and the magnificent nature around us here at Huia. How that takes shape is as much to do with past experience of big city life in California, Europe, Asia, and Australia and a childhood growing up in the New Zealand countryside.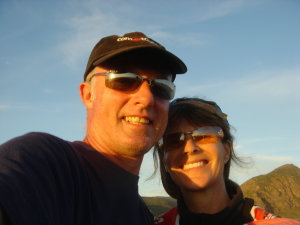 John & Sharon
Yet there is more to it than our past. It's about the present and a future worth living in. Its about you and that person you know like you, who wants to be a part of a future worth living. It could be about living amongst the beautiful stands of Kauri with views across Huia Bay and the Manukau Heads Or it could be about Tehuia becoming an integral part of your journey and your future by living in a Tehuia Log Frame Design. That means allowing yourself to stop, listen and be awestruck by what surrounds you.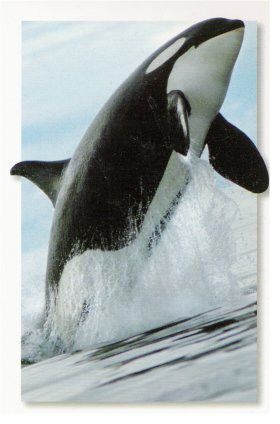 Orca regularly visit our Harbour
It could be about being living surrounded by wildernes. Here we have those wild natural elements and yet we can still enjoy the close proximity of the best a big city like Auckland has to offer.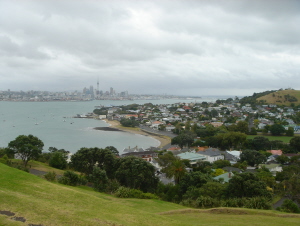 Auckland City - 40 mins

Its about waking to the song of Tui and other native birds , yet being able to switch on your Broadband connection and plying your trade on the International stage.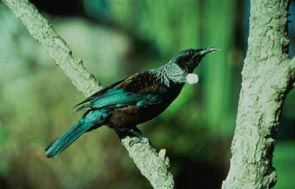 Tui

Walk out of Tehuia's gate and into 250 kilometers of walking trails and the unspoilt beaches of Whatipu and north to several spectacular West Coast beaches such as Karekare, Piha, Bethells and Muriwai.

Its about fishing, kayaking, sailing, hiking, biking and living in a photographic natural wonderland. About wood fires and solar hot water and wind generated energy heated floors. About Tehuia grown organic produce. Its about living in a small remote, yet close to the city, coastal village, where most of us live very private retreat like lives.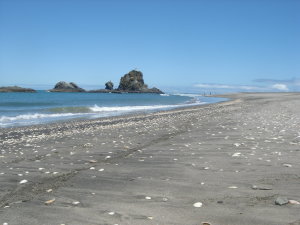 Nine Pin Rocks at Whatipu Beach
The Area
Huia and Little Huia and their immediate environs may have a few hundred people total, and thats only when all holiday baches are being occupied. There is just one store. This General Store has its origins in 1886. There are no traffic lights, petrol stations, ugly fast food type businesses or motels. The owners of Tehuia and residents of Huia obviously like it that way or they would not travel over the Waitakere Ranges along the winding country road from Titirangi Village 15 minutes by car. It is a journey which until relatively recently, required some resourcefulness. Indeed in the days of horse and cart, then early motor vehicle, the lack of todays high quality road and vehicles, surely preserved Huia from the worst elements of big city creep one can encounter in some big cities.

Huia Bay looking East down Manakau Harbour
Historically then, the
Waitakere Ranges
and forests have formed a natural barrier around Huia. Nowdays the Waitakeres with their watershed protected lakes and forests legally protected. it is both the rugged topographical nature and man made laws which are destined to keep Tehuia's wilderness surrounds of increasing importance to residents and recreational visitors.
As the crow flies, Huia Bay lies just a few kilometers from the headlands of the
Manukau Harbour
. The prevailing south westerly winds that come off the Tasman sea through this headland make for clean, refreshing and envigorating air.
The Manukau is a very large inland harbour on this western side of Auckland. It has a rich history and could well have become 'the' major Auckland port were it not for at certain times a dangerous sand bar across part of its entrance. Indeed many a story be told of
ship wrecks
in the hay days of sail of the 18th and 19th centuries.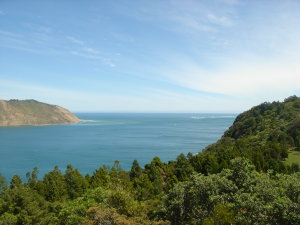 The Manukau Heads from Jackys Peak

Dangerous yes but not enough to stop thousands and thousands of monster
Kauri
,
Totara
, and
Rimu
trees being cut from the slopes of the Waitakere Ranges around the Manukau Harbour during this time and Huia Bay and the harbour played a major role in their milling and transport and export.
Today just a few small coastal freighters use the tiny port of Onehunga and a few fishing boats but it's mostly pleasure craft which access the Tasman Sea through the entrance at the Manukau Heads. The harbour has great fishing and off shore are Marlin, Tuna, Hapuka, shark and more.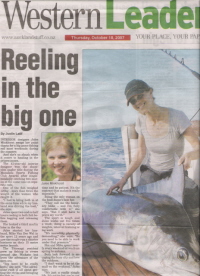 'another great tag & release'